About Ms. Mae Ross
Ms. Mae Ross has directed and produced Hollywood's most celebrated Talent Agent Showcase for over 15 years, guiding thousands of aspiring young actors to agency representation and career success. In her work as an acclaimed acting coach and teacher, she has had the privilege of helping her students to book roles in such major films and TV shows as  DISNEY'S JESSIE, PARENTHOOD, HAWAII FIVE-O, NCIS, CASTLE, GUIDING LIGHT, THE HANGOVER 2, DISNEY'S PRANKSTARS, ICARLY, SESAME STREET, THE NERDIST, PHINEAS & FERB, BONES, COLD CASE, THE MENTALIST, CRIMINAL MINDS, SHMAGREGGIE SAVES THE WORLD, CSI: LA, POWER RANGERS, LAKE PLACID 2, GHOST WHISPERER, PARKS & RECREATION, and many more. She is rated a top acting coach for children and teens by CHILDREN IN FILM and 3-2-1- was named by Backstage  a " Best Acting Class for Kids in Los Angeles.".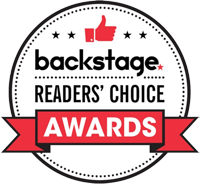 Her own acting, modeling  and dancing career has spanned 3 decades, starting at the age of 10, when she toured 64 cities across California with the hit Broadway musical "The Music Man". From there, she went on to star in over 40 national commercials, and has appeared in TV shows including RETIRED AT 35, HILL ST. BLUES, PENNIES FROM HEAVEN, FALCON CREST, THE LOVE BOAT, and DIE LAUGHING. She has also modeled for such international high-fashion brands as Chanel, Max Mara, Wrangler Jeans, Ungaro, Hugo Boss, and Anne Klein.
"But of all my wonderful experiences in the entertainment industry," says Ms. Mae, "the one I am most proud of is my 20 years working with parents and kids to make their Showbiz dreams a reality too!" In 2006, this passion inspired her to found 3-2-1  Acting Studios in Los Angeles, which garners consistent recognition as one of Hollywood's finest on-camera acting schools for children and teens and young adults.
We invite your child to be our guest and take our complimentary acting class.
Call 818-353-5455 for your complimentary class.
Ms. Mae's Credits
TV Commercials
COCA-COLA, LIKE-COLA, PIZZA HUT, GRAPE NUTS CEREAL, J.C. PENNEY, DITTO JEANS, MARSHALLS DEPT. STORES, UNITED WAY, PAYLESS SHOES, DODGE CARAVAN, BROWN 'N SERVE SAUSAGE, BOB EVANS RESTAURANTS, SCAN HEALTH PLANS, NEVADA BANK, FLORIDA STATE LOTTERY, ATARI VIDEO GAMES, MERNSMART N.Y., MISTIBISHI, FORD MUSTANG, SOUTHERN CA. GAS, SCOTTISH RITE HOSPITALS,  SCOOP-PIC, MR.SIEVE GARDEN PRODUCTS, TAB DIET DRINK, QUEEN MARY-SPRUCE GOOSE, MURPHY BROWN PROMO, CELLULAR-ONE and more.
Movies/T.V.
RETIRED AT 35, THE LOVE BOAT, FALCON CREST, FANTASY ISLAND, HILL ST. BLUES, PENNIES FROM HEAVEN, DIE LAUGHING,  ME AND MAXX, CHILDREN OF A LAUGHING GOD, CAN'T STOP THE MUSIC.
 Print Modeling/Runway
Ads: HILTON HOTELS, BRIDES MAGAZINE, LEE JEANS, WRANGLER JEANS, PACIFIC BELL, AMERICAN SAVING BANK, MOET CHANDON, BERKELEY HAIR SALON, VIRGINIA SLIMS, SAN FRANCISCO NEW YEAR, LINCOLN-MERCURY, SCAN HEALTH PLAN, YELLOW PAGES, NURSING MAGAZINE, PEERLESS PRODUCTS.
Designer Fashions Modeled:  CHANEL, KRIZIA, UNGARO,  JENNY, ST. JOHN, ANNE KLEIN, DAVID HAYES,  MAX MARA,  SONIA RYKIEL,  CA COLE SWIMWEAR, LEE  JEANS, WRANGLER, BLACKGLAMA FURS, HUGO BOSS, Department Store Model– BULLOCKS WILSHIRE, NEIMAN MARCUS, SAKS FIFTH AVE.
Theater/Stage
GODSPELL, JESUS CHRIST SUPER STAR, THE MUSIC MAN, SHE LOVES ME, VERY GOOD EDDIE, TROUGH THE YEARS, PLANET OF DANCE, HIPPODROME S.F. CA, IRENE NADEL DANCE CO.,LAFF AFFAIR, EAST BAY CTR. FOR THE PERFORMING ARTS, EAST BAY DANCE PERSPECTIVES CO., 3RD ST DANCE STUDIO, MACYS DEPT. STORE, THE RUSSIAN TEA ROOM, THE RIVIERA HOTEL & SPA, THEATER EAST, MEGAW THEATER, THE GROUP REPERTORY THEATER.