How to Increase Creativity as an Actor
As actors, we are constantly exposed to our #1 source of creativity: life!  However, on occasion, we can find ourselves in creative "slumps," in which we are seeking new ideas, outlets and inspiration.  If you are wondering how to increase creativity as an actor, you've come to the right place!  Here are some idas:
Take an improv class
I've mentioned improv in a lot of posts here, and that's because I truly believe in it.  Improv is a fantastic way to get your creativity flowing!  As actors, we constantly need to memorize our lines, stay aware of our cues, etc., but we also need to maintain a sense of creativity and play.  If you are feeling like you need some creative inspiration, get yourself into a great improv class.  In Los Angeles, we have UCB, iO West, Second City and Groundlings, among other great training programs.  Also, many of the Los Angeles on-camera acting studios, such as 3-2-1- Acting Studio, incorporate improv into the curriculum.
Practice "freewriting"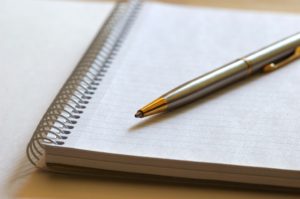 Many actors these days are writing and producing their own content.  There is a great book called The Artist's Way by Julia Cameron, and in that book, Cameron urges artists to spend each morning doing something called the "morning pages." Basically, you wake up in the morning and do a stream-of-consciousness "freewrite" for three pages (or more).  You just "dump" all of the thoughts that are in your brain onto the page.  This serves up to free up the artist's creative brain.  The exercise is particularly great for writers, but it has helped all sorts of artists, from painters, to actors, to dancers. If you get in the habit of writing these pages daily, you will definitely increase creativity in all areas of your artistry!
Dance
One of our guest bloggers wrote a GREAT article about dance.  Dance is an excellent way to increase your creativity as an actor.  As actors, we need to make sure that we are always grounded in our physicality and in touch with our impulses to move.  Dance is a great way to free up your body and physical impulses.  And you don't have to be a pro to take a dance class.  Trust me, as a lifelong dancer, I've taught and worked with students of all levels.  The key is having a positive and willing attitude.
Play Sports
Maybe dancing isn't your thing.  Or maybe it is, and you'd like to challenge yourself in another way.  Participating in recreational athletic teams can be a great outlet for actors.  You are connecting with teammates, working together and having fun!  Basically just like the theatre, right?  By playing a sport, you are training your mind to stay "in the moment" and to focus on your next move.  This is much like being on stage in a play and having to improvise on the fly.  For an actor, being physical is essential, so find an athletic activity that you enjoy, and stick to it!
Paint or take an art class
As actors, it's important that we stimulate our creative brains through many outlets that we enjoy.  Many actors are drawn to the visual arts as an expressive outlet and a way to increase creativity.  Again, much like the freewriting exercise, doing activities like abstract painting will serve to free up your creative impulses.  The key is finding an expressive outlet that puts your mind at ease and allows a sense of freedom.  So taking a still life drawing class, for example, in which you are attempting to sketch a fruit basket with perfect precision defeats the entire purpose.  Abstract painting would be a much better choice.
Have fun!

As I ALWAYS say, whatever you choose to do in life, make sure you have fun while doing it.  As actors, it's our job to be creative, to take on characters, and to portray life.  Enjoy yours to the fullest!

Related posts: