What is the Michael Chekhov Acting Technique?
What is the Michael Chekhov Acting Technique?
We sincerely hope that you are enjoying our blog post series on acting techniques! So far, we have covered Stanislavski's system, Method Acting, the Meisner Technique and the Stella Adler Acting Method.  At 3-2-1 Acting School for kids, teens and young adults in Los Angeles, we encourage our students to expose themselves to various acting techniques and methods so that they may find what works perfectly for them.  Today, we introduce another legend into our series: Michael Chekhov. For those of you wondering — what is the Michael Chekhov Acting Technique? — you've definitely come to the right place!
Who is Michael Chekhov?
Michael Chekhov was a Russian actor, director, theatre practitioner and author, referred to by Konstantin Stanislavski as his most brilliant student. He was the nephew of playwright Anton Chekhov and worked as an actor in Russia, Europe and the US throughout the early and mid 1900s, until his death in 1955.
He first studied with Stanislavski at the Moscow Art Theatre, learning Stanislavski's system before creating and touring with his own theatre company.  He spent time opening and running acting schools and programs in Germany, Lithuania and England before relocating his German school to the US in 1938.
What is the Michael Chekhov Acting Technique?
Though Michael Chekhov first trained under Stanislavski, he felt that the early phases of the Stanislavski system led to acting that was too naturalistic in style.  Chekhov endeavored to uncover and teach ways through which actors could tap into their subconscious minds — and the universal experience of humanity — through various exercises.  He felt that it was important that actors not limit their characters by drawing from their limited, conscious, worldly experiences.  He felt that infinite experiences of humanity were stored in the subconscious mind and could be accessed through physical gestures and other exercises that were seemingly "external" in nature.
Specifically, one way in which Chekhov bridged the gap between the subconscious and the conscious — between the external world and the internal experience that a character was meant to have — was through the use of "Psychological Gesture."  Through this exercise, an actor will physicalize an internal need or emotion through an external gesture.  This outward gesture, and its accompanying feelings, are then drawn back in and internalized.
In short, Chekhov and his students explored the connections between the body/physical expressions and emotions/psychological states.
Who influenced Michael Chekhov?
Stanislavski was Chekhov's first teacher, so his system obviously influenced Chekhov greatly. That said, Chekhov challenged Stanislavki's focus on naturalistic acting, encouraging his students to rely on their imaginations and to create non-realistic performances.
Who uses Michael Chekhov's Acting Technique?
Chekhov's students included: Marilyn Monroe, Anthony Quinn, Clint Eastwood, Mala Powers, Yul Brynner, Patricia Neal, Sterling Hayden, Jack Palance, Elia Kazan, Paula Strasberg, Guy Gillette, and Lloyd and Dorothy Bridges.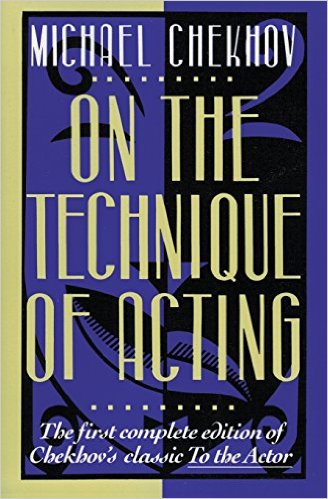 Where can I study Michael Chekhov's Acting Technique?
Chekhov describes his technique in his book On the Technique of Acting, which was revised into an abridged version, entitled To the Actor.  He also wrote an autobiography: The Path of the Actor.
Actors can learn his technique at the Michael Chekhov Acting Studio in New York and at the Chekhov Studio International in Los Angeles. The technique is also taught at the Chekhov International Theatre School, just outside of Moscow, Russia on the site of the former estate of Anton Chekhov. A list of further teachers and institutions can be found at: http://www.michaelchekhov.org/networking/find-a-teacher/
Is Michael Chekhov's Acting Technique right for me?
Again, an actor's process is personal.  We encourage our acting students — and all of you readers — to try a variety of methods and techniques, and see what works best for you. We wish you all the best on your journey of exploration!

Related posts: