How to prepare for an audition in under an hour.
In an ideal world, you will have several days to prepare for an audition. When this happens, we always encourage our students to go the extra mile – get off book, get comfortable with the material, do your homework, and be as prepared as possible!  But often, you will have a limited amount of time to prepare. Your agent may even phone you the night before you have to go in for an audition!  But worry not: at 3-2-1- Acting School in Los Angeles, we have a formula for success. Here are some tried and true steps that you can take to prepare for an audition in under an hour.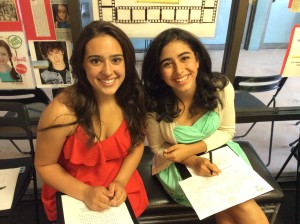 Know the basic given circumstances
Who are you? What is your relationship to your scene partner?  What occurs in the scene? What basic facts do you know about your character and his/her world? Take just a few minutes to read the scene once or twice through in order to glean the basic given circumstances.  Having a basic sense of the facts is crucial!
Clarify your WHERE.
Where does the scene take place?  Close your eyes. Imagine a specific room or location.  Visualize where you are standing.  When you are the audition room, after you slate to the camera, transport yourself to this place.  Having a specific WHERE will set you, and your audition, apart from the rest.
Know your character's point of view.
How does your character feel about your scene partner(s), specifically?  If you could describe your scene partner with 1 or 2 specific adjectives, what would you choose? Get super clear on how you feel about the other person in your scene!  If there are multiple characters in the scene, clarify your points of view about each character.
Clarify your OBJECTIVE…and fight for it.
What does your character want from the other person in this scene?  Get super clear on what it is that you are fighting for, and make sure that the objective connects you to your scene partner.  Do you want him to ask you on a date?  Do you want her to leave you alone?  Do you want her to admit that you are right?  Whatever it is that your character wants, get very specific and clear on it, and fight for it.  If you focus on the objective during the audition (vs. the script and lines) you will deliver a much more compelling performance.
Use your script
Your script is your friend! It's okay if you need to reference it – you most likely will. But be sure not to hide behind it. When you don't need to reference your lines, be sure to actively listen to your scene partner and hold your script away from your beautiful face.
Have fun!
Remember: you've just been giving an opportunity to ACT. Hooray! So show of your talent, and have fun! Even if you are playing a dramatic role.  This is your moment to shine.
Good luck!

Related posts: