What to wear to an audition: 10 tips
We know that figuring out what to wear to an audition can be a confusing task.  The good news is: you have an audition!  The better news is: you can greatly improve your chances at being cast by ensuring that you present yourself in a way that suggests your character and looks good on camera.  At 3-2-1- Acting School in Los Angeles, we educate our students on what to wear at auditions; we also provide wardrobe for our photo shoots for our child, teen and young adult actors.
Here are 8 tips on what to wear to an audition:
Suggest the character
Emphasis on suggest.  For example, if you are auditioning for the role of high school cheerleader, that doesn't mean arrive in full cheerleading attire with your pom poms (unless you are specifically asked to). However, you could wear a nice cardigan or preppy collared shirt and style your hair with a small ribbon.  You want the casting director to believe that you are the character as soon as you walk in the door.  If you are auditioning to play a secretary, you could wear business attire. But consider the character description. Is she a quirky secretary? A no-nonsense secretary?  This is the difference between wearing a brightly colored blouse with your hair down…or you hair pulled back with a more conservative business suit.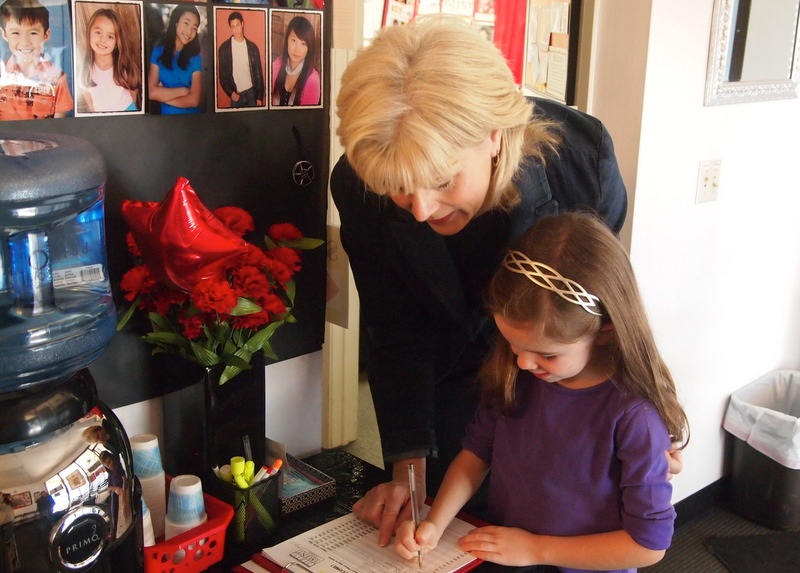 2. Stick with colors that look good on you
Bright white will "burn" the camera, and black also isn't a great color on camera (plus it ages you).  Stick to colors that look good with your skin tones and hair! Jewel tones look great on camera. Blue is the color that gets cast most often. Also, salmon is a flattering color on most skin tones and looks great against the typically blue backdrop at auditions.
3. Wear layers
Watch a few episodes of television. Notice how characters — especially on sitcoms — often dress in layers.  Jackets, cardigans, sweaters over shirts and tank tops, etc.   Outfits on television shows are completely styled by wardrobe professionals!  You want to look like the TV show you are auditioning for when you walk into the room, so play close attention to what people are wearing on your show, and consider adding layers to your outfit.
4. When in doubt, stick to solids
Polka dots, busy patterns, and narrow stripes can often be distracting on camera.  So, unless your quirky/zany character calls for a loud pattern, stick to solid colors!
5. Lay off on the accessories, hats and sunglasses
You don't want to over accessorize in auditions; big, clunky jewelry can be very distracting on camera. You want the casting directors to be paying attention to your acting performance and not your flashy neon earrings!  Small studs in your ears are okay, and perhaps an engagement ring if your character calls for it and it helps you get into character.  But that's it!
6. Keep your hair out of your face
Make sure that your bangs or hair will not fall in your face during auditions.  This includes profile shots — you'll want to tuck your hair behind your ears during profile shots if necessary so that your face shows on camera.  Again, you want the casting director to be able to see your beautiful face and performance throughout the audition!
7. When in doubt, shave the beard
Gentleman: you may be called to play a variety of ages.  Use your discretion when planning for your audition. If you are over 18 and auditioning for high school characters, you will definitely want to be clean shaven!  If your character is supposed to be a bit older than you look, having a 5 o'clock shadow could work.  Be very intentional about facial hair. And when in doubt, shave it off. 🙂
8. No need to over dress
Often, you will be auditioning for a character that is very similar to you. An "everyday" character in casual clothing. So look casual!  Look like a norma, everyday person.  No need to whip out your Sunday best.
9. Test your outfits
Remember: you can always "test" your outfits at home by taking photos of yourself or using your phone camera to see what looks flattering. So try a few different looks and see what you like best.
10. Feel confident
The most important thing, going into an audition, is that you feel comfortable and confident! So, whatever you choose to wear, be sure that you feel like your very best self!
Have fun!
We wish you all the best at your auditions! Enjoy this process of preparation.  You'll figure out what to wear to your audition in no time. 🙂

Related posts: