What is a Studio Teacher?
What is a Studio Teacher? And what is it like for child actors to go to school on set?
For kids working in the entertainment industry, school is often in the form of on-set classrooms run by "studio teachers." What "studio teacher" means and what child labor laws require varies from state to state.
Studio Teachers work in stage theater productions, commercial sets, and even the biggest Hollywood films. In California, Studio Teachers are hired and paid by production companies because state law requires them to do so.
Studio teachers in California are responsible for making sure their students complete a minimum of 15 hours of schoolwork a week (that's three hours each day), the minimum state requirement for first grade through high school. To be certified to work on set, studio teachers complete additional training on child labor laws and on-set safety.
The studio teacher's top priority, always, is their students' health and well-being. A big part of a studio teacher's job is monitoring the safety practices of the production. They also check to make sure the young actors have their paperwork and work permit in order. For preschool age actors, the studio teacher acts mainly as a kind of social worker, monitoring the child's working conditions and safety closely.
For school-age actors, studio teachers also teach according to their state's educational standards. Young actors working on a short-term basis (hours or days away from their regular schooling) are expected to bring school work with them to set. Young actors cast as series regulars or who spend substantial periods of their school year on a shooting set may have their entire grade year taught to them by the on-set studio teacher. That's in addition to any acting classes for kids and teens they might also be taking.
Linda Stone taught for seven years before joining the Studio Teachers Welfare Workers Union to teach young actors in the entertainment industry. Thirty years later, like other dedicated educators, Linda still approaches her role as a studio teacher as helping young actors succeed with school, and also in life. "There's an enormous reward in seeing kids learn something and the excitement that they feel when they master a concept."
On "Kickin' It" (for Disney XD) Linda team-taught with another studio teacher to coordinate the schooling for the Disney XD show's four under-age co-stars, Dylan Riley Snyder, Olivia Holt, Mateo Arias and Leo Howard.  Disney dedicated a room as a classroom in the Hollywood Center Studios log where "Kickin' It" taped. Each of the young actors had their own desk to work from and keep personal stuff.
(Below, Howard works with studio teacher Linda Stone on a short answer assignment on classic American novel, "The Great Gatsby" by F. Scott Fitzgerald.)
Studio teachers often must be as flexible and adaptive as the young performers they teach. Among her teaching credits, Linda Stone has worked with the productions of feature films "Air Force One" and "Practical Magic" and the television shows "Family Matters" and "Hannah Montana."
Studio and on-set teachers work closely with their students and sometimes travel with them to maintain their educational progress on location or on tour. Linda traveled all over the world to accompany Miley Cyrus during two "Hannah Montana" concert tours.
It was on the Disney show "Hannah Montana" that actor Mateo Arias first met Linda. At that time, Linda was the studio teacher for Mateo's brother, Moises Arias, who played Rico on the show. "I don't ever call her my teacher. I legitimately introduce her as my second mom," Mateo says. "She helps me with life, problems, anything that's happening in my life."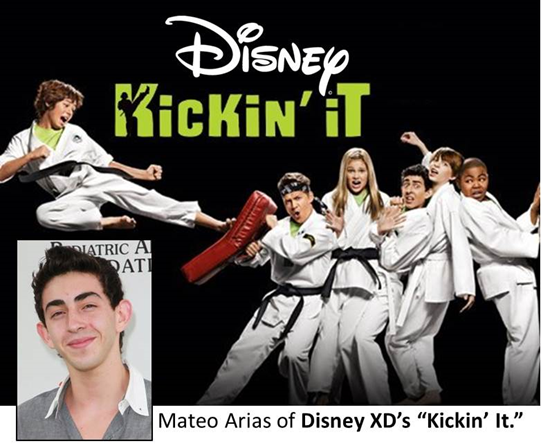 Linda speaks highly of her students, and of her three decades as an on-set studio teacher. She still finds great personal rewards in helping her students grow and learn as professionals and as people. She isn't about to give that up any time soon. "It's just been a fun career. I can't imagine ever retiring."

Related posts: