12 Steps to Writing Good Actor Cover Letters to Talent Agents
Cover letters are a common part of any kind of career. Learn  how to write an effective actor cover letter to a talent agent. This skill will cross over and be applied to any and every industry you choose. The basics strengths that make a cover letter stand out are universal and may not be covered in your acting classes for kids or teens. Get that talent agent's attention and interest with these 12 simple steps (and see sample letters below).
1. Focus Your Resources
You probably know a mass mailing when you get one. So do talent agents. Rather than blanket Los Angeles with cover letters, focus your resources on well-placed, well-written cover letters to a few targeted talent agents. I still think sending by P.O. mail is a great method, unless the agency will only accept online submissions. People in general WANT to open their mail, agents are no exception.
2. Look Professional
Your cover letter's content should be the most interesting thing about it. Use business letter format, white paper, black ink, and use generous margins and ONE easy to read 12pt font. Best fonts for cover letters and resumes are listed here
3. Less is More
Fit your letter on ONE standard letter page (8.5 x 11).  And smaller paper can be even better! Smaller notes seems more personal and looks quicker to get through.  Also, if your head shot is the biggest item in your mailer, which attracts attention and helps keep the edges of your letter crisp and flat.  Remember, time is precious.  Your cover letter's best chance of being read by any agent is if it looks like a fast read.
4. Follow Submission Rules Exactly
If you've been asked to submit to a talent agent in a specific way, follow the specifics to the letter. If submitting online or by e-mail, keep your presentation professional. Make sure any links your include work perfectly and include cut-and-paste urls, just in case.
5. Target your letter
Learn about the agent you're sending to and use specific details that will distinguish you and your letter as something special. Address the letter to the talent agent by name, and keep your tone professional. Use the talent agent's surname with Mr. or Ms. Let the agent be the one to relax formalities and say, "call me Sam."
6. Follow Up on Meetings
An effective cover letter often follows up on an event the agent recently attended or a meeting. Maybe you met a talent agent (or manager or casting director) at a screening, a showcase, a speaking event, a film festival, a party or some other casual public setting. Maybe you met at an actor or talent showcase, an acting class or acting school in Los Angeles.  Nurture that new contact with a targeted cover letter. Mention how and where you met or briefly reference the event.
7. Include Your Acting Essentials
Be sure to include with your cover letter the basics you'd want any talent agent, manager or casting director to have about you. Send or submit online your current head-shot (with resumé stapled back-to-back). Make sure all the contact information you send, including any website urls and credits, are accurate and up to the minute current. Add IMBD if you have credits to share.
8. Open Strong
The opening of any letter is a greeting. Remind the talent agent where and how your paths crossed. Be friendly and specific: "It was lovely speaking with you at the DGA screening of…"
9. Show You're Serious
Talent agents are serious about their careers and their time. Show that you're invested in your career. Tell the agent about your training highlights, like where you went to school, trained, or what you're currently doing to advance your acting goals (whose class you're currently taking). Stay brief. Your resume will do the heavy lifting on this topic.
10. Toot Your Horn
Talent agents want to represent actors who are in demand. Tell them about a recent booking you did.  Invite them to see you in an upcoming performance or show (pre-arrange tickets for them if appropriate). You want to show them you there is money to be made for both of you, that representing you will pay off.
11. Close Strong
Refer them to your headshot (and any other enclosed materials). State your interest in speaking with them and invite them to contact you.  Sign your letter (following Sincerely, Sincerely yours, or another professional salutation). Signing with blue ink helps distinguish your letter from mass mailings, and using a ball point pen will leave a signature indentation that says "signed by hand" and not "printed in color."
12. Move On
Cover letters are like auditions, and completing one means looking ahead to your next step. Once you've posted or delivered your materials, move on.  Successful actors keep moving. Good actor cover letters to talent agents will help you one day take those steps as a represented actor.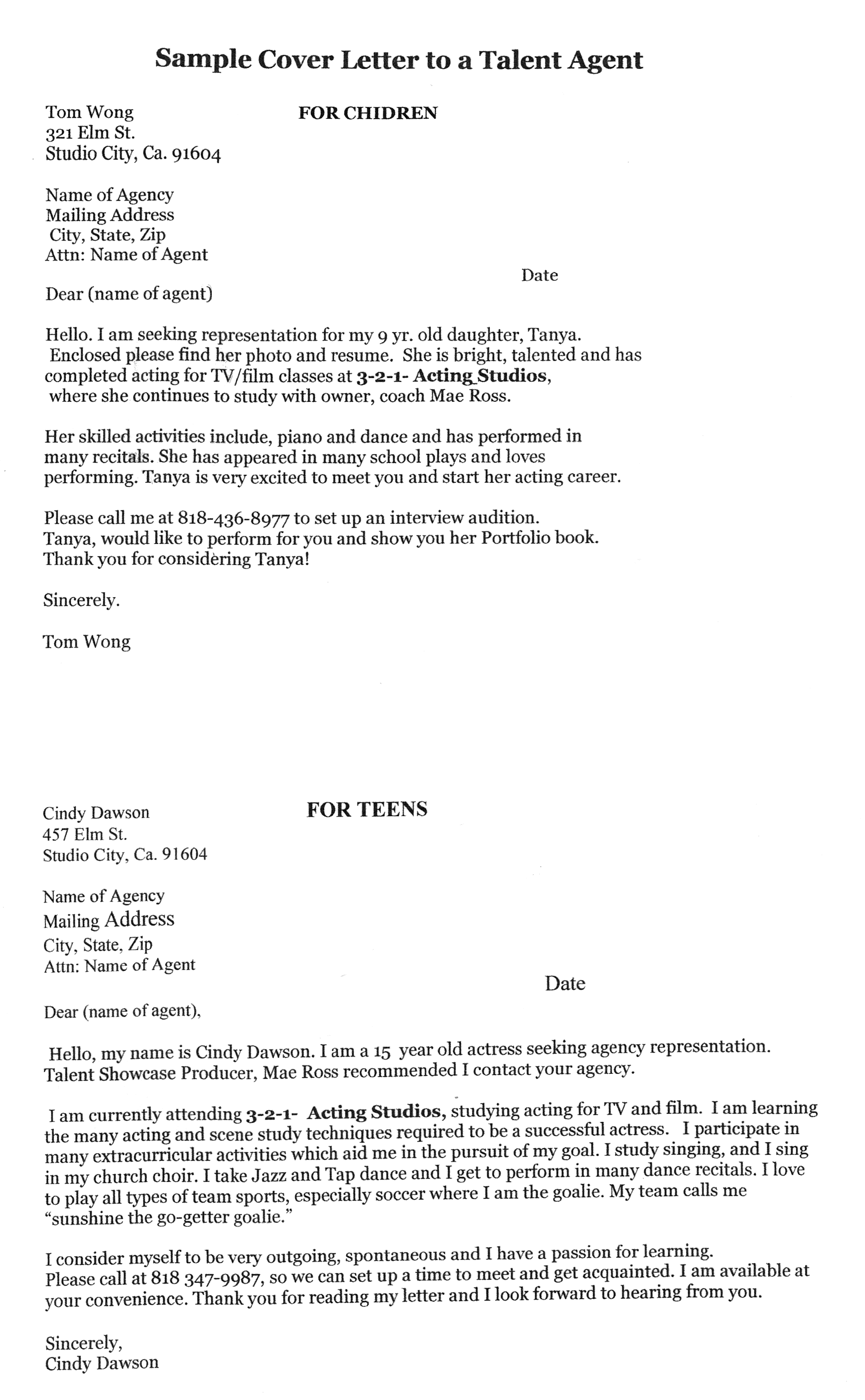 Related posts: