What's an Actor Stage Name?
Not all actors need or use stage names or screen names.  What's an actor stage name?  An actor stage name is like a pen name or nom de plume for writers.  An actor stage name is a pseudonym actors use for themselves professionally that is different from their birth or legal name.

What's in a Stage Name?

Sometimes actors go so far as to legally change their names for work.  However, actors can use and register stage names without ever legally changing their names in court.  In fact, some actors choose to simultaneously use their real names and stage names to keep their work and personal lives separate.  And acting school for kids is a great place for young actors to try out a stage name to help decide whether to use one and what it should be.  Whether you're in acting classes for kids, acting professionally or pursuing it as an interest, a stage name might be for you.

To Court or Not To Court

Actor stage names are often used for screen credits only and do not require an legal action.  Actors can work a lifetime under a stage name without ever changing their name legally.  Most states make this process very easy, especially for child actors, and make room on the entertainment work permit to list a child's stage name.  Checks and contracts are made out to legal names.  Credits on screen and on professional websites like imdb.com use the stage names.

If you decide you need a stage name, how you choose it depends a lot on why you're choosing it.  Many actors opt to use their middle name as a surname.  For instance, Angelina Jolie Voight choose to drop Voight and work only as Angelina Jolie. There are many options for choosing a stage name.  Some actors employ social media or cast their query to the masses for suggestions.  Read on for more ideas about what you might consider before deciding to use or before selecting a specific stage name.

Meet Tom, Tom, and Tom

To avoid confusion, actors' unions, like SAG-AFTRA require working actors avoid having identical working names.  If an actor's name is already being used, the new union member must choose a new name. Sometimes that change is as simple as adding or removing a middle initial (like Michael Fox vs. Michael J. Fox.
Sometimes the name change is more significant and involved.  Nathan Lane's birth name is Joseph Lane.  Michael Keaton was born Michael Douglas, but Michael Douglas' career preceded his own and beat him to the Union registry.

So, if there was more than one young actor named Tye Sheridan (Mud), he might have included his middle name and been credited Tye Kayle Sheridan to set himself apart.  He might easily have gone with Tye Kayle, too, or even Kayle Sheridan.  As luck would have it, Tye Sheridan is the first of that name to register and work under the name and Tye Sheridan remains his professional name.  Including or switching to a middle name is a common and useful technique to distinguish one actor from another with the same name in professional acting.

Popular or Too-Common Names

Union rules aside, actors take stage names for a number of other reasons.  If your name is a common one, there may be many other actors with your same name.  Actors with very common names may use a show name to help them stand apart from other actors.  Thus Caryn Elaine Johnson became Whoopi Goldberg.

Someone Famous is Already Using Your Name

The actor/writer/director Albert Brooks was born "Albert Einstein" and changed his surname for obvious reasons.  Singer and actor David Bowie (born David Robert Jones) changed his name to avoid confusion with singer and actor Davy Jones (of The Monkees).

Many names are inspired or refer directly to real-world things that may be unflattering.  Some surnames (like Belcher, Hooker, Crapper, Fanny, Gaylord…) have meanings that can complicate actors' attempts to cultivate the professional image they want.  Classic Hollywood movie actor Cary Grant's original name Archibald Leach seemed less romantic than Paramount Pictures wanted for their leading man.  Clothing designer Ralph Lauren might have been Ralph Lifshitz if his brother hadn't acted on the embedded obscenity and changed the family name.

No, I Don't Speak Spanish (or French, or Italian, or Russian, or…)

Actors are cast for look, talent, and skills.  Some names may convey an expectation for an actor to have certain skills, like language fluency.  If your name suggests a strong identification with a language other than English, a stage name might be something to consider.

Funny, He Didn't Look Norwegian (Names and Ethnicity)

Of course, just like people, all names come from somewhere.  However, if your name clearly comes from a specific place and you look like you come from someplace else entirely, you might consider using a show name.  For instance, fair, blonde Hispanics who do not speak Spanish may choose show names that conceal or obscure their heritage.

Show names are also traditionally used to avoid discrimination or the potential for it.  Ethnic names were commonly "Anglicized" to make them seem more English or American, or simply to make them more easily remembered and understood to the American film and television industry at large.  Jason Alexander, Jon Stewart, Winona Ryder, Natalie Portman and Martin Sheen are all anglicized show names.

Ethnic surnames can also be a great advantage, which is why Jerry Rivers reversed the Anglicization of his professional name and became Geraldo Rivera.  David Boreanaz, (of Bones, Angel, Buffy the Vampire Slayer) opted not to change his surname.  In the 1950s, his father used Thomas or Roberts instead of Boreanaz.  For actors today, highlighting or obscuring ethnic heritage are equally common motives for creating and using an actor stage name.

Ease of Use

AEA (Actor's Equity Association) recommends performers use names that are easy for others to say, spell, and remember.  Asa Maxwell (Hugo, Ender's Game) is easy enough to say and remember, but his full name, Asa Maxwell Thornton Farr Butterfield would be a little tough to squeeze onto a headshot.  Zendaya Maree Stoermer Coleman chose to just go with Zendaya (Shake It Up, Frenemies), using her first name by itself for her professional credits.  Joaquin Phoenix first worked as Leaf Phoenix because it was easier for him to say as a child actor, and "Leaf" fit in with the nature-names of his other working family members, like his older brother River.

Maurice Micklewhite preferred the more glamorous sound of "Michael" and (reportedly) chose "Caine" off a movie marquee for The Caine Mutiny, which was playing in movie theaters at the time he chose his actor stage name.  Hence Michael Caine (Batman Begins) once joked, "had I looked the other direction, I'd be known as Michael The One Hundred and One Dalmations."

Ease of use and memorability are not always the same thing.  And a unique name is often an asset to a self-branding actor.  Pete Postlethwaite ignored recommendations he take a stage name and has enjoyed multiple decades as a professional actor.

Child Actor Show Names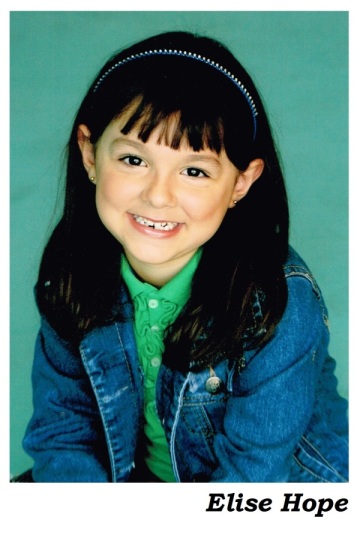 Working professionally under one name while using your "regular name" at home helps some actors separate their working and private lives.  For child actors, stage names can provide an added layer of identity insulation.  Acting credits may be listed under the stage name while the legal name or birth name appears on school enrollment, sports rosters and any local event mentions.
At our Los Angeles acting school, 3-2-1- Acting Studios, we advise our student actors who are entering the entertainment business whether they should create and work under a stage name.  One such student is Elise Hope, the darling girl you see here.

Elise's family supports her interest in performing for camera and enrolled her in 3-2-1- Acting Studios signature preparation course to ready themselves and Elise for getting an agent and working in the entertainment industry.  Elise's and her family decided to drop her surname for work and use only Elise's first and middle name — easy to say, easy to remember, and with a happy, positive connotation that is Elise head to toe.


Related posts: