Why Self-Submissions Are Great for Young Actors!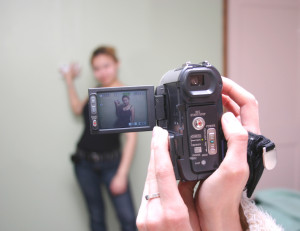 Why self-submissions are great for young actors starts with the fact that a lot of casting that used to be done in person is now done digitally.
Online casting websites, online casting services and chat boards…
Even auditions are being held digitally.  Embrace this change!  You can make self submission work for young actors when you know why digital or recorded auditions are actually great opportunities!
Casting sees your best!
When you submit yourself digitally for a role, you get MORE THAN ONE TAKE!  If you're having an off day, need a second take, or if you sneezed in the middle of your most important line, so what?  Casting directors will only see the take you choose to submit.  So digital or recorded auditions let you select your best work, every time!
You save time! 
Traffic, navigation issues and parking are a breeze when you're submitting yourself online for an audition.  For recorded or digital auditions, all your time and energy gets to be focused on you and only you.  Your performance.  Your recording.  How you look and sound!
You build a reel!
Because you're not in the car and your time and energy is being spent on you, you can audition more!  You can record several takes.  You can keep copies of your best performances to submit to other auditions!
Some auditions have sides for you to perform.  Some auditions ask you to perform a script of your own choosing.  If you had a great take for your audition last week, yes, you can submit it again for a different job!  Just like you can perform a prepared monologue several times to multiple auditions, you can submit the same "tape" or recording of yourself multiple times.
What's a reel or actor's demo reel?
A demo reel is a great, general representation of you, your look, and your acting.  When an audition calls for you to submit something of your own choosing, think of your demo reel.  And as you gather "tape" on yourself, you can assemble multiple demo reels.
The more you audition and perform, the more range your demo reels will have.  You may develop a commercial demo reel, a feature film demo reel, a television reel, each showing your awareness of and ability in the different styles of performance media.
Get organized and get cast!
You'll do even better if you get organized.  Make sure to always follow the submission instructions exactly.  And keep track of where you submitted your audition.  Casting directors want to see fresh material on you, so make sure you only duplicate submissions to DIFFERENT casting directors.  It's okay if four casting directors see your best cat-monologue.  It's less effective if one casting director gets four copies of it.
What about a sizzle reel?
Some actors put together a "sizzle reel."  Sizzle reels would be in addition to a regular acting reel.  Online entertainment, television hosting, and commercial acting tends to work best, but so does genre stuff.  For instance, if you get a job on a science fiction web series, you might assemble a sizzle reel of your character's most entertaining moments.
Promote yourself more!
As an actor, you want to be visible to casting directors and easy to find.  Do you use Facebook?  Do you have a website?  Do you have an good "online footprint" so when people (like casting directors) search for you, they find you, how to contact you (in a professional manner), and are reminded of how awesome you are?
Casting directors can't go to all the acting classes for kids in Los Angeles, or wherever you are.  However, actors can put their best takes or demo reel on their personal (professional) website to show more of what they can do–beyond a single audition submission.
The more you self-submit and record yourself, the more best takes and options you'll have to choose from!  So get acting, and record it!
Make a sizzle reel!
A sizzle reel is to show off and be fun while still demonstrating what you can do.  A sizzle reel tends to be more clipped, too. It's your best lines, funny moments, great "bits," and shorter pieces assembled together.  Both demo and sizzle reels take a little bit of editing to stick the cuts together.  You can find free editing software online for making simple cuts.
Toss the bloopers!
You want casting directors to see you at your best.  Make sure whatever "tape," image or recording of yourself you send out or put online shows your best.  You're an actor.  You want to be hired and trusted to do the job.  Make sure your recordings of yourself do that.
Everything is public!
It's a good idea to make sure all recordings of you reflect your professionalism and character.  A recording you may intend to be "casual" or even private becomes public once it's posted online.  And anything about you online becomes part of your professional identity the instant any industry professional sees it.  Just remember, if it's e-mailed, texted, Tweeted, uploaded, or online in any way, it's public.  And it's part of your professional identity.
Rethinking bloopers….
Bloopers can be charming and endearing.  Of course you can make a "best bloopers reel."  You might even put that on your website.  Having funny or engaging content on your website can attract more views, followers, and can help you network, building real, professional connections.  Keep in mind that bloopers are selected because they're fun, funny, and FLATTERING.  The best bloopers show an actor's professionalism and good-humor in the context of the job.

Related posts: