How to Get a Good Headshot, Part 5: Act!
What do Casting Directors want to see in your headshot? Connection and personality! And acting classes in Los Angeles (or wherever you are) is the best way to bring yours out.  Learn how to get a good headshot with acting so the camera, casting directors, and talent agents can really see you. When the other details are settled, the final ingredient in how to get a good headshot is acting! Make the most of your next photo shoot. Act! Watch this video lesson to see more what I mean:
 You've done your homework, partnered with solid professionals, have made great wardrobe, hair and make-up choices. Now it's time for you to perform.
How to get a good headshot that grabs your attention begins and ends with your relationship to the camera. It's not the beauty of the shot, colors, or clothes that casting directors are looking for. All of those elements will change (sometimes many, many times) on a working set once you're cast. In fact, much of the care you put into your photoshoot choices are to ensure these elements stay out of your way, so the quintessential you is revealed.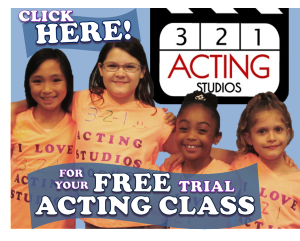 Casting directors want to see what you bring to the camera every time, wardrobe, hair, make-up, lighting, and setting aside. They're looking for your personality, your intensity, your range.  This all comes from your ability to look into that lens and connect with a complete stranger.
How do you do that?
Practice before you get there. Practice in the mirror. Practice in your acting class. Practice with your cell phone or your parents or your friend. Get used to looking at and through that lens. Get comfortable with the lens. Build a relationship with the lens. Pretend it's more than just a camera you're looking at. Imagine it's a friend. Imagine it's your pet. Imagine it's your parent. Imagine it's the person you have a deep crush on. Imagine that the crush is mutual. And give that crush your best smile.
These words, practice, pretend, imagine, are what you do in any acting class. If you're interested in on-camera acting especially, look for acting classes for kids or teens that regularly put you on-camera. Before your next photo shoot, make sure to build your confidence in front of the camera by training with one. Watching yourself on screen will also help you with the key to a good photo shoot.
I hear from talent agents all the time that what they crave in client photos is emotional range and acting types. Casting directors want to connect with your photos and feel something. They want to be compelled by you.
Think of acting breakdowns and the thumbnail descriptions of the characters they're casting. They're looking for serious, raw, elated, giddy, silly, fun, intense, sad, open, gruff, arrogant, strong, vulnerable. Yes, your wardrobe, hair and make-up choices may help your look lean one way or another. Your acting skills are what pull these compelling feelings and thoughts out for camera at your photo shoot and every set thereafter.  And since you know how to get a good headshot, all of these versions of you look like the you that will walk through that audition room door.  Whether you love television, film, or commercial acting for children, teens or adults, it's all about bringing your compelling enthusiasm, emotion and personality out for all to see.
Acting classes will help you discover and develop your reliable emotional range so when you get to your photo shoot, you'll know what you want and how to do it. Discuss with your photographer the types and looks you want to capture. Your photographer will direct you well when you bring your developed acting skills with you.
Your Top Hollywood Acting Coach for Kids and Teens,
Mae Ross
3-2-1 Acting Studios
818.248.5602
Los Angeles, CA

image credit: Sarah Hyland's imdb.com page
Video Transcription
Welcome to 3-2-1- Acting Studios in Los Angeles. You're at Top Hollywood Acting Coach dot com. And today we're talking about how to get a good headshot.
[Title Card: How to get a good headshot, Part 5: Act!]
Okay, you've booked the photographer. You've done a wardrobe check. You've hired the make-up artist, and you're ready to shoot. When you're there, you're going to relax, have fun, think of good things, and you're going to act. You're going to use your acting skills for your headshots.
You're going to look into the camera and pretend you're meeting somebody that you really want to meet for the first time.
You're going to use your acting skills to maybe look sad or to look lost or to look happy. And you want to give the camera a wide range of emotions. A good photographer will help you with that and he will pose you and he will give you ideas of what to do. But it's really important that the actor knows what they want to impart to the camera. And it's important that you practice at home before you go into the photo shoot.
Your attitude is really important. You want to pretend that the camera is somebody that is there, so it's not just a piece of metal, that you're really looking into the camera lens. This is the time that you really focus, and the camera lens is your winning bull's eye.
Emotional Range. Acting Types. Practice. Engage with Camera.
[Title Card: How to get a good headshot. Final Tips.]
Make sure that before your shoot that you're well rested, and that you're well-fed, because it does take an energy. You're giving yourself to the camera.
And have fun!
Remember, you're wonderful, and you're talented. So, take your time. Breathe. Have fun. And the photographer will help you. A good photographer will really help you through it all.
Related posts: