5 Things Actors Need for Success
Did the acting bug bite you?  Caught the fever?  Fantastic!  Acting is fun, fulfilling, and almost everything else you learn, know and do expands your actor's toolbox.  Getting the opportunity to crack open that toolbox and act is what all actors strive for (especially the opportunities that come with a paycheck).  Here are the five things actors need for success.
1.  ACTING SKILLS
People have varying degrees of "natural" or effortless talent.  To bridge the gap, there is training, and training is something actors need for success.  Whatever your natural acting talents, training will make them stronger and help you discover more.  Training will also help you learn yourself, your style, and what you're best at.  Training and feedback will help you identify how others see you in various attitudes and situations, which will help you learn what types you can reliably play and be more strategic in where you put your acting resources.  On camera acting instruction, like at 3-2-1 Acting school for kids in Los Angeles, help young acting students see and develop what a sense of what range of acting roles or acting types they can reliably play.
Consider a somewhat typical working actor's dilemma:  stay 20 minutes late to get into audition A, or race across town to make audition B?  Knowing your types may be the key to making that decision in a way that improves your odds of getting cast.  Acting classes guided by good acting coaches will not only improve your acting skills, they'll help you build your strategies to find success.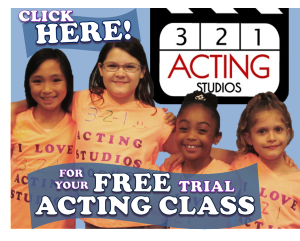 So study acting, take acting classes, engage with it, practice, audition, review your self-submissions and watch yourself on camera.  Seek advice.  Seek coaching.  Seek opportunities to apply yourself and what you've learned at your acting school for kids and beyond.  In general, the more you do, the better you will be at doing.
2.  PROFESSIONALISM
Acting can be a tremendous personal outlet, a wonderfully social hobby, is a great way to develop self-awareness and master self-presentation.  If you want to pursue acting professionally, be professional.  Professionals are early when they're not on time.  Professionals come prepared and know how to adjust to changes in the moment.  Professionals expect the unexpected and keep their cool, even when things go flooey.  Professionals welcome new challenges and embrace their role, large or small, in the significant creative effort that is every production from the simplest still-shot to the most elaborate feature film.
Just like your acting skills, professional skills can be improved with training and practice.  Not sure what a professional ought to be doing in a given circumstance?  Being a professional means being willing to look up answers, asking for advice, admitting when you need help, and getting the information you need without fail or making excuses.  Make sure you're practicing good professional habits and displaying good manners.  And when in doubt, ask.  (If you're good on #1, ask your acting coach or acting school).
3. RELATIONSHIPS
Also called "networking," and it's important because people are most comfortable with people they already know.  For actors, networking is like planting work-seeds.  The more working people you know (and who know you), the more chances you will have to get into auditions and get cast.  If you're new and unknown, that's okay.  Like every professional field, acting and the entertainment industry are made of interconnecting webs of relationships.  If you're in acting classes or auditioning at all, you're already connected to at least one web.  Continue to cultivate your connections.
That's a lot of Cs, but what does it mean to cultivate connections?  That means get to know people who are "in the industry," and do your best to be friendly or likable.
A great way to do both is to learn people's names.  Everyone likes to be remembered.  It makes us feel important.  Someone who remembers other people's names seems instantly competent.  So, do your best to remember people's names.  If learning names is not your strength, get a strategy to help you.  When you meet people, repeat their name several times in your head and try to keep doing that every time you look at them.  You may be surprised how many times you can do that within a minute and how well that will help lock it in your memory.  Do this in your acting classes.  You might keep an audition diary or a "met today" notebook to jot down your latest audition details and whoever you met there.  Something like, "Janice @ Summit LLC."  Flip through it from time to time to refresher your memory or to prep for your next outing.  As you audition more, you'll get to know other actors, casting directors, assistants(many of whom become full-fledged casting directors, producers, directors, agents …
You see where this is going.
Beyond auditions, keep track of who you've met and worked with.  You don't need to build a database or compile dossiers.  Just your notebook, or maybe a calendar, or lists, or pictures on your phone, or use Facebook friending, or play six-degrees-of…whoever.   Whatever system works best for you.  Keep track, and you'll start to notice the entertainment industry in whatever city you're based in is fairly small.  You'll start to see the same casting directors, production companies, studios, financiers, producers and actors pop up on different projects.  Even if you weren't cast, they're getting to know you, too – that you were punctual, friendly, prepared, skilled, and professional.  Unleash a bit of talent while you're at it, your chances of getting called in, called back, and cast go way, way up.
Keep your call sheets.  Call sheets list every cast and crew member who worked on the days you worked.  They also list the locations and scenes you worked on.  Look them over from time to time.  Not only are they cool momentums of your work experience, they are a short-cut catalog of your industry connections.  Remember that guy you cracked up back in August last year on that commercial your part got cut from?  You hear that guy's casting his pilot that was picked up for two season order!  Your call sheet reminds you it was Otis, was assisting for Blanche at Cube.  Thanks to your call-sheet refresher, you have three places you can call (Otis's current production, Cube's general line, and Blanche's direct) to help get an audition for that show.
4. TENACITY
Acting is not a salaried position.  There is no tenure or seniority system. Your credits will get you only so far.  Even the most successful actors weather the ebb and flow of work.  The difference between people who used to act and working actors is that working actors do not quit acting.  They are tenacious.  So, be tenacious.
5. LOVE OF ACTING
Acting is creative, subjective, and wildly dynamic. There are many crooked, crisscrossed, tangled roads to an acting career.  Success can be measured in days or decades, pennies or millions, views, replays, click-throughs, replays, reprints, residuals, and tear-sheets.  Unknowns do occasionally rocket to stardom.  It is indeed possible to support a family and send kids to college with a career as a regular stand-in or stunt double.  In fact, there are tons more acting roles out there besides The Lead or The Villain, and it takes a lot more than a movie star to make a movie (or a TV show or even a commercial).  If you love acting, you will love your acting life, whatever its manifestation, and you will work with passion to grow it in the directions you think best.
Your Top Hollywood Acting Coach for Kids and Teens,
Mae Ross
3-2-1 Acting Studios
818.248.5602
Los Angeles, CA

Related posts: