How to Get a Good Headshot, Part 3: Wardrobe
Your headshots are your first opportunity to get casting's attention. Keep their focus on you by choosing clothes and colors that draw the eye to you. Learn how to get good headshots with these simple steps to selecting the right wardrobe to draw the eye to you, and only you. Watch this third video lesson in the series on how to get a good headshot and find out what clothes work best to show you off, get you noticed, and help get you cast.

Usually, casting directors do not have the luxury of knowing you well. They don't know what outfit makes you feel awesome. They don't know how great your shirt looks from the back or how the pleats hang just right posing like this or like that. All casting gets to see before your audition is what is within the eight by ten inch borders of your headshot (or portfolio shots, if they have time to consider and ask to see more than one image).
When considering what to wear for camera, remember that it's only what the camera sees that matters in choosing clothes for your headshot. What the camera sees is what casting sees.  If you're taking acting classes or go to an acting school in Los Angeles like 3-2-1- Acting Studios, you may be used to seeing yourself on screen, and that can help you imagine the wardrobe choices that might work best for you.  Casting wants to see you: your shape, your personality, your comfort level, your confidence.
Be cautious if choosing wardrobe with layers. Layering your outfit can work to frame the face and sometimes flatter the line of your neck. Carefully selected layers may add vertical wedges of color, texture and visual interest without distracting from your face and eyes. However, layers can obscure your body shape, and it is essential that casting sees your basic shape.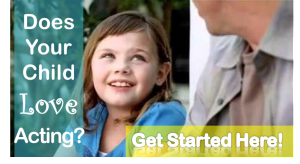 Casting needs to see your shape: the shape of your head and hair, the shape of your body, shoulders and basic physique. Make sure the shapes you show casting in your headshots are accurate to the shape you are when you walk through the audition room door. Maybe you're actively working on your shape. Maybe you're still growing and seem to be changing shape all the time! The headshot you submit right now should accurately show your right-now shape. And there are roles for every size, shape, and type.
If you've grown a foot since your last headshot photo shoot, it's probably time to get new ones. If you've lost or gained weight or muscle that makes a visual difference, get new headshots.  And when you're selecting clothes to wear for that headshot photo shoot, select clothes that flatter you as well as reveal your body and personality.  Taking acting classes for kids or teens or young adults can help you gain the confidence you need.  The key is to always be yourself.
The raw you—your eyes, your body, your personality and attitude—should always be the most powerful component of any of your photos. Clothes with texture or subtle patterns can draw attention without eclipsing the person wearing them. Bright, bold colors can help your pictures "pop" and catch the eye. Be judicious in the degree of brightness and boldness, however.
Wardrobe to avoid would be anything that interferes with your being cast. Avoid clothes that display logos of any kind. Logos are designed to attract attention, and you want your headshots to draw attention to you, not to someone else's business. Also, especially in commercial casting but in theatrical as well, you may be auditioning for a competing brand. Nickelodeon may bristle if you're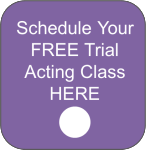 wearing a big Mickey shirt in your headshot or to your audition, and vice-versa. Keep casting eager and bristle-free by choosing wardrobe that keeps the focus of your headshots on you.
Headshots are eight inches by ten inches, but they may be vertical, horizontal, cropped close, cropped wide. Generally, headshots will show your entire head, neck, the tops of your shoulders and some of your chest. However, you may want some wider shots, portfolio shots, or even full-body shots during your photo shoot. Casting for print, commercial and even theatrical may ask for a second image of you, a full-body shot or something that shows more physicality. When you're putting together your photo shoot wardrobe, be sure to include at least one or two selections that work as whole outfits so you have the option to get close-ups as well as wide shots.
Above all, listen to your photographers. You reviewed their work and demonstrated aesthetic already. That's why you hired them. You've partnered with them because you trust their judgment. Whatever you may see in the mirror, your photographer is the one who sees what the lens sees and what casting will see in your pictures. When your photographer says add a layer or lose a layer, change tops or pin this tablecloth to your shoulder, do it. You are the talent. Let yourself be directed.
Once your photo shoot begins, let go of your producer self (you know, the person who did the calling, vetting, hiring, scheduling, and organizing). The producer's job is done. Now it's time to be the performer you are so that your unique personality is free to shine. Casting is looking for you. Take these tips to heart, and help them find and cast you!
Video Transcription
Hi there. I'm Ms. Mae Ross and welcome to Top Hollywood Acting Coach dot com. Today we're talking about how to get a good headshot. Some of the points we're going to cover: wardrobe options and how to get that sparkle in your eye.
[Title Card: How to get a good headshot, Part 3: What to Know About Wardrobe.]
Here's a great example of a wonderful headshot. And as you notice, the wardrobe is very simple, just a nice, plain, simple T-shirt. These are the type of clothes that you want to think of. Just a nice simple wardrobe, simple colors, lace looks good, a lot of texture.
You want to stay away from polka dots and stripes because they'll distract. But you'll notice that these colors stand out very nicely and they don't distract from the face.
So this will give you some ideas for wardrobe.
Wardrobe: Simple Styles, Solid Colors, Texture.
Avoid busy patterns and logos.
And here is a nice bright yellow that will be wonderful for your pictures. So think simple, bright colors and have fun.
Related posts: