How to Runway Model: Basic Modeling Technique
In this video acting lesson, Ms. Mae Ross  from 3-2-1- Acting school in Los Angeles and two young sisters who are acting students, show you how to runway model, starting with the basic model stance, posture, and the half or "T" turn. In minutes, and with a little practice, you can add modeling basics to your actor's toolbox! What a great way to supplement or expand beginning careers!
 Hi there. And welcome to Top Hollywood Acting Coach dot com. I'm Ms. Mae Ross, and I own 321 Acting Studios here in Los Angeles. And we're here today to show you some modeling techniques: basic model stance, posture, and how to do the half turn.
[Title Card: Basic Modeling Technique.]
Today we're going to learn the basic model stance, the basic "T" turn (or half-turn), and I've got two lovely young students to help me show you this today.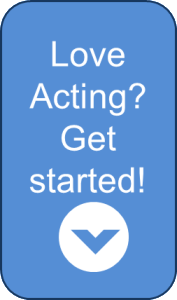 Eunice: My name is Eunice Vera, and I'm nine years old.
Mae: Nine years old. And who are you?
Raquel: Hi, my name is Raquel Vera, and I'm eleven years old.
Mae: They are sisters, and we're doing a modeling lesson today. So, let's go on back.
And we're teaching the basic model stance. So we're dropping back on the left foot. We're putting the right foot into the instep. We're putting the knees over. We're looking up. Hands are down. And we're going to walk down, do the half turn, and then come back. All right? You ready girls? I'll do it with you this time just 'cause I feel like I want to do it. Here we go.
Ready?
We're walking, walking down. And then we're going to put the left foot in front. We're going to turn. We are going to pull that right foot back. And now we're going to start, always with the front foot, models, you start with the front foot. Here we go. And walking, right, and then we put the left foot down. We pivot, and we turn, and we close.
[Title Card: Basic Modeling Close Up]
Now what we'd like to do is take you to the feet and to show you exactly what the feet are doing.
The basic model stance: left foot back and our right foot forward. The heel is into the instep of the left foot. We're facing the knee literally out to the left. And that is the basic model stance.
For your half turn (or "T" turn), we're going to step with the right, place the left foot almost into a "T" shape, pivot, turn, and then close the right foot into the instep of the left foot. Your posture: you're standing up straight, your shoulders are back and down. Your hips are slightly tilted to the left so that you're not facing straight to the camera.
And for the feet: step, place, pivot, close. Step, place, pivot, close.
Actors, it's a great way to make some extra money, and it's also a great way to develop more physical presence and that poise that everyone needs. And you're back to model stance. And there you go. You're ready to model.
Modeling techniques, the basic model stance, how to do the model's half turn, how to have good body language and look confident when you're walking down the runway or even walking across the stage to get your award. It's also a way to bring more revenue into your business, which is the acting/modeling. Maybe you're a dancer. Maybe you're a singer. So modeling is a wonderful technique to learn.
Practice at home! It's fun to practice at home. So have fun practicing and we'll see you next time.
[End Title: 3-2-1- Acting Studios, www.321ActingStudios.com, 818-248-5602]

Modeling  is fun and you can find yourself in a magazine, on a billboard, on product boxes, clothing hand-tags etc. Our very own acting student 12 year old Luke Willett ending up modeling for top national and international famous fashion designer Tommy Hilfger. Luke saw himself in every fashion magazine in the US and in Europe.  He said not only did he get paid well but it was  a huge"WOW factor" to see himself in all those magazines!
Modeling skills and know-how are great tools for actors to have in their toolbox. Modeling work is a wonderful way to supplement or expand and add fun and excitement to one's career, especially for teen and child actors. When it comes to acting careers for children, there are more jobs in print and commercials than in scripted television or film combined. Make sure any acting school for children you choose offers the skills your child needs to be at their best whether the audition is for a print, commercial, or theatrical project.
Every model needs a range of acting skills to have the tools to make those moments consistently come alive, no matter the product or setting. As an actor, you're already prepared for that thanks to your acting classes for kids in Los Angeles or New York or some place in between. Add confident body language to how you present yourself, and you're more than half way to expanding your bookings and actor's repertoire.
The model stance, posture, and turns have an elegance to them. More importantly, they convey a relaxed confidence and self-assurance. You'll want that calm, cool presence when you meet with representation, casting directors, directors and producers, not to mention when you're on the red carpet. And whether you're going to or from an audition, a classroom or a job interview, that confident physicality will be an asset. Developing your presence with skills like these let you apply this confident body language when and where you need it. When you know how, the power is yours how and when to apply them.

Related posts: