How to Get A Good Headshot, Part 1: Choosing A Photographer
Good headshots show your best self at a glance.  They attract interest, they hold attention, and they accurately show what will show up when you're called in to audition.  How to get good headshots is easy if you know what to look for, the questions to ask, and how to prepare at each step.  In this video acting lesson series on how to get a good headshot, Ms. Mae Ross gives you all you need to know for choosing a photographer who can and will catch your best with the camera.
Hi there.  I'm Ms. Mae Ross, and I'm coming to you from 3-2-1- Acting Studios here in Los Angeles.  And today our lesson is how to get a good headshot.
[Title Card: How to Get a Good Headshot:  Part 1, Choosing a Photographer]
The first thing you want to do to get a good headshot is you want to research photographers.  And you want to find one that specializes in headshots.  And if you have children, someone who works with children. 
Then you want to look at their portfolio book and make sure that you like their work.  You like their lighting style you like the looks on the kids' faces or the people's faces.  And then you want to check and make sure that you understand all fees that are involved and if there are any extras after the shoot.  It also helps to like the photographer because then you're going to have a better experience, and you'll have more fun.

[Title Card: Headshots = Actor's Business Card.  Be At Your Best.]
Make sure before your shoot that you're well rested and you're well fed, because it does take an energy.  You're giving yourself to the camera.  And have fun.  Remember you're wonderful and you're talented.  So, take your time, breathe, have fun, and the photographer will help you. 
A good photographer will help you through it all.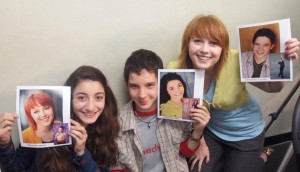 Every actor and model knows they need good pictures to get work.  The headshot is an actor's business card and advertisement.  A good one gets you through the many stages of selection between a role becoming available and that role being cast.  Those new to the industry are sometimes surprised to learn that great headshots are not the same as great portraits, however.  Whether you're starting in acting classes for kids or already working as a professional, actors quickly learn their best headshots are the ones that lead to the most work.  That headshot may or may not be the kind of picture that your loved ones prefer for their mantle.
The step-by-step process of how to get a good headshot begins with choosing your photographer, and choosing your photographer begins with finding one who specializes in the specific artistry of headshot photography.  Sometimes the only difference between whether you're called in to audition is what Casting sees in your pictures.  And what they're looking for is not as simple as beauty.  In fact, beauty can actually be an impediment to some kinds of roles.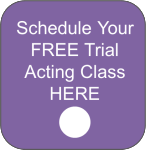 At the dawn of serial television, Audrey Meadows was rejected for a role opposite Jackie Gleason because she was considered "too young and pretty" to pull it off.  Audrey went back to the producers with no make-up, hair in curlers and wearing a house dress, and she landed the career-making, iconic role as Alice Kramden on The Honeymooners.  Thirty-five years later, Janine Turner hit the same "too pretty" wall for the starring role of an Alaskan wilderness courier pilot for the hit television series Northern Exposure.  Janine pulled an Audrey Meadows, removed all her make-up, cut her hair very short, and got the role.
The art (and power) of headshot photography is much like that of acting and directing – it's making the internal visible.  When you see a great headshot, you are struck by it.  You are moved.  You are drawn in by the eyes and the suggestion of thought and ideas within them.  You are intrigued by the expression.  You are interested in knowing what that charismatic creature is about to do or say.  Or you find yourself wondering what fleeting, secret notion is behind those eyes, caught and held for you by the photo.  You see energy and potency and will.  If you're a Casting Director who sees any of that in a headshot, you're going to keep that actor or model in mind, either for your current project or the next one.
Consider that when you look for photographers and review their work.  You don't need a nice picture of you.  You need a picture that convinces complete strangers that you're very interesting, a picture that compels them to know you better, a picture that makes very busy people set time aside to meet you in person.  Keep that in mind when you're reviewing a photographer's work.  Do the headshots have that effect you?  Do you feel compelled?  Are you intrigued?
Headshot photography is part science and part art.  Styles will vary.  Styles of working will also vary.  A photographer who gets great moments from one actor may not be the right fit for you.  The opposite, however, is unlikely.  Looking at a photographer's book should either prompt your confidence or your exit.  Trust your gut and your taste.  Good headshots are an investment in yourself, your business, and your future.  If you can afford to be a patron to a fledgling photographer, wonderful.  Otherwise, save your money for photographers who know what they're doing to get the best out of you and give you the sound service and solid result you deserve.

Related posts: