How to Handle Food Auditions: Video Acting Lesson
Ever notice how much eating is involved in most television commercials?  In this video acting lesson, Ms. Mae describes how commercial actors manage scene work during food auditions.  You can take a bite of commercial acting by handling food and eating like a pro!  Land the callback and book the job with the commercial actor's bite.  Here's how:
Is your cereal talking to you?  If you're acting in a television commercial, it might be!  In fact, if you want to act in television commercials, or if you're auditioning for them already, you may be working with some unique scene partners, like luxury cars or tiny lizards (to be C.G.I.'d in later).  Or food.
Going into an audition prepared will always help get you the callback and book the job.  If you're working with food, that preparation may include eating.  You may be asked to take a bite during your audition.  And just as often, what you take a bite of for the audition may not be anything like what you have to eat for the shoot.
So how do you prepare?  The best way is to practice or rehearse these skills in an acting class.  Experienced instructors and encouraging peers can help you develop your skills better and faster than on your own.  Young people should look for good acting schools for kids in Los Angeles or Chicago or wherever they can get to because they will specialize in breaking down acting techniques in accessible, age-appropriate ways.   If you want to try it on your own first, read on!
The student demonstrating commercial bite technique in this example is Skyler Rowley, an acting student at 3-2-1- Acting school in Los Angeles.  Aside for some time spent in the San Francisco Bay Area, Skyler considers himself a southern California kid through and through.  "I love it here!"
Skyler got started in theater acting by doing school plays.  In 6th grade he was the main lead in Broadway Beat, the musical, played a taxi cab driver that drove kids through different musicals and time.  "There were so many opportunities to act like in school and stuff.  So, I decided to get involved and developed a passion for it."  This year, Skyler's appearing in his school's production of The Wizard of Oz.
Skyler is one of four kids in his family.  "I have two sisters, one older (she's 16), one younger (she's 9), and my little brother is 3."  Skyler likes being both a younger and older brother, which he says means "I have to listen to the older one and get to boss around the little one sometimes."  And what does Skyler do when he gets to be the boss?  "I trick my little brother into eating his vegetables."
Skyler's sister goes to acting classes specifically geared for theater and stage acting, but Skyler's goal is 0n-camera acting, and he wanted to find an acting school for kids in Los Angeles that specialized in youth training for television, film, commercial acting.  He'd see commercials on television and say to himself, "I can do that." I bet many of you reading this have thought the same thing however auditioning and acting in TV Commercials is not as easy as it looks. It takes practice!
"I knew I wanted to start getting an agent and doing commercials and stuff.  So, I started asking my mom and finally a friend told me about 3-2-1- and stuff.  I just felt like I could take it, one more step, a bigger step.  I came here (to 3-2-1- Acting Studios).  I'm like, 'I really love this place.' I told my mom, 'I just want to stay here.  I know this is the place I want to go to.'  Just like everyone here, like the atmosphere is nice."
Some of the elements specific to on-camera acting that Skyler especially likes learning about and working with are the technical aspects of shots and angles.  "I've gotten better at how to deliver lines and where to stand on camera and how to block and stuff.  And I'd never had commercials or anything like that in my head before this.  So I've been like reading those and understanding those better."
Skyler recently completed the Talent Showcase and Acting Career Program, a signature program designed by 3-2-1- Acting Studios founder Mae Ross to help interested kids like Skyler get started as working actors and find professional representation.  Skyler recently met and performed for a panel of top talent agents and has 2 offers already! You can find out more about this program and look for updates on Skyler and more 3-2-1- students here.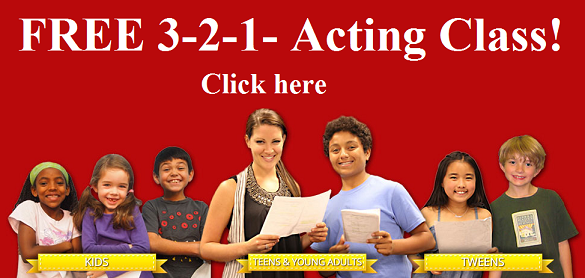 VIDEO TRANSCRIPT:
Hi there.  I'm Ms. Mae Ross from 3-2-1- Acting Studios, also Top Hollywood Acting Coach dot com.  Nice to have you here today. 
Our lesson has to do with commercial acting.  And for the commercial actor, they need to interact with all kinds of items, whether it be a car, a bicycle, a hula hoop, and food.  Lots of food.  And with many food commercials, part of the commercial has to do with taking a bite of that food.  And so today's lesson has to do with always take a very small bite of the food that you have in an audition, because you need to usually talk after.  And this is a really good example coming up next by a student that was in our commercial acting class.  Let's watch.
So, I woke up early this morning.  I want my Kellogg's Corn Pops!  Mmm.  Tastes like sweet popcorn.  And after you have one, you're gonna have to have another.  Kellogg's Corn Pops.  Gotta have my pops!
Okay, so you saw that Skyler took a very small bite and talked after.  And that's what happens in the audition. 
When you're on set, they're actually going to bring out spittoons where you spit it out after each bite.  But not at auditions.  So this is audition techniques.  And we teach that here at 3-2-1- Acting Studios right here in Los Angeles, CA.  So come on by, take a free class, and let's have some fun!
Related posts: