Casting Steps in Feature Films: PART 1 (Pre-Audition)
Willow Shields tackled the casting steps in feature films head-on by taping herself at her house in New Mexico.  It was like a pre-audition.  She knew the casting steps in feature films can be as varied as film itself.   Even so, Willow sent her recorded audition to feature film screenwriter and director Gary Ross.  After a callback in Los Angeles with Gary, Willow was cast as Primrose Everdeen in the summer blockbuster, The Hunger Games!
"Right there on the spot, right after I had auditioned. It was kind of a crazy thing because I had never had that happen. I don't think anyone really ever has that happen."
Whirlwind casting does happen, however there can be many steps between a first audition and landing a part. Knowing them and what to expect will help you get through the process, keep your cool, and book more often!
Feature Films:  The Pre-Audition
For lead roles in feature films, the casting process may begin long before a script is even written.  Writers, directors or producers get top performers to commit to a movie early to help raise money and get the movie made.  Unless you're an "A-list" actor, you can expect to audition for your part.  Just like Willow, it may even take some doing just to get to that first audition, sort of like a "pre-audition."
It takes a lot of money and a lot of people to make a movie.  All of them want to see the movie succeed, and they may have different ideas about how to do that.  Movie scripts therefore go through extensive "development" or changes, all in the hope of getting it right.  Because of that, scripts change and can be rewritten even after shooting ends, sometimes adding, combining, or removing whole speaking parts.  Even so, the casting process usually begins with breaking down the script to put out casting notices.
When Casting Directors "break down" a script, they identify all of the speaking roles and create descriptive profiles.  These list the personalities, physical description, specific mannerisms, abilities—any details the script specifies about a particular role.  This is an example of casting breakdowns and descriptive profiles: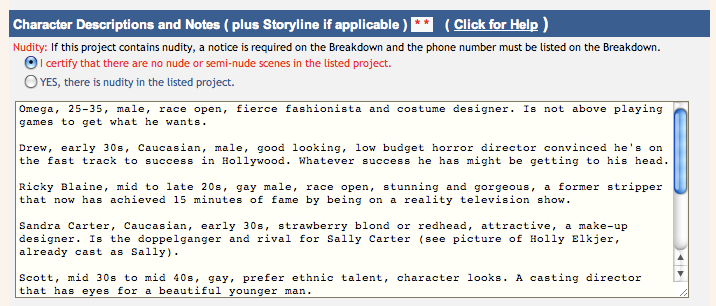 Casting Directors send these breakdowns to agents and online casting services.  If auditions are "open" or it's a non-union project, casting notices may go all over the internet, to blog sites and chat rooms, even Craigslist.  Breakdowns might be printed in trade magazines and newspapers local to the audition site.
Agents submit their clients' headshots, resumes, and demo reels.  Many represented actors submit themselves like Willow did.  Working actors are a diligent actors.  Sometimes Casting Directors review these submissions and invite a portion of the actors to audition in person.
Some make the mistake of submitting to every audition regardless of the role's requirements or profile.  In a post-Avatar age with James Cameron digitally painting entire film casts alien-blue, it can be easy to forget those descriptive profiles are there to save everyone time and frustration.
For instance, the role of Primrose Everdeen calls for a young teenage girl.  Willow Shields is a teenage girl, and apparently just right for the role with acting chops to boot.  A six-foot tall middle-aged man, no matter how talented, would not make a very good Primrose Everdeen.  While it's true some roles are cast "against type," you want to focus your energy and resources (headshots aren't free!) to what will most likely get you the part!
One detail you might consider ignoring when submitting for an audition is union membership.  Young performers in particular are not necessarily expected to hold a union card because they are newer to the industry.  And feature films that are "union shows" actually hire a large number of unrepresented actors to do "background" or "extra" work.  Some actors make whole careers out of working background.  Working "background" can be an opportunity to see how the set of a major motion picture operates.  And extra work can get you to a union card.  Remember how scripts often change?  As scenes are blocked and "background" performers are adjusted, one or more may be selected to be "featured," which means they're given specific actions or things to do on camera.  Though it's rare, some extras are even given a word or line of dialogue, which not only increases the day-rate of pay, it can be enough to make a formerly "background" performer union "eligible."
When deciding whether to submit for an audition, it's important to know your assets and your limits.    Successful working actors have a thorough and accurate understanding of what they can do, say, and look like.  Maybe you can play younger than you are.  Maybe your "look" changes dramatically with a different hair style or attitude or clothes.  Know yourself, and always be professional, no matter what.  The best way to get cast is for Casting Directors to notice and remember you.  Make sure you stand out for good reasons, the kind that will make people want to work with you again and again.
Last, and first!  Go to an acting class!!!  When you're submitting, when you're trolling for auditions, when you're debating what to do next, you need to keep your skills and confidence high.  Regular acting classes and being around others meeting similar professional challenges can do wonders to keep your morale up and your process in perspective.  And your peers and classmates may have leads on other productions or ideas to help you succeed.

Related posts: