What is Craft Services?
When people in film, television or video production talk about Craft Services, they're usually referring to food and drink station provided in a kind of round-the-clock buffet on set for cast and crew.  People who work in a Craft Service position are considered crew members, so the person or people cleaning and stocking those tables of snacks and drinks are part of the production.  In fact, on most television and film sets (especially for union productions), Craft Service is a full-time job and sometimes a lifetime career for the people working it. Craft Service is not the same as Catering, which provides the sit-down or plated meals for a cast and crew (every six hours on union-shoots).  Hot meals are catered, but all the snacking that keeps people going between meals is Craft Service.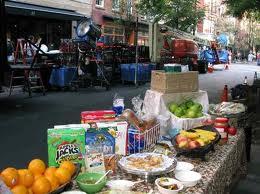 Whether you're shooting for print, television or film, production days are long days.  Craft Service is there to keep everyone on set going with the extra energy from eaten calories.  On larger productions you can expect a variety of foods, candy, snacks and drinks all day long.  Sometimes there are two craft service stations, one for cast and crew and a second area for non-union background actors.
Craft Services as we know them today started at Universal Studios.  In the old days, meals on set were brown-bag lunches people brought from home.  Universal Studios started rolling coffee carts (later adding doughnuts, snacks) to the different stages for between-meal boosts.  While the Craft Service crew members used to be something like P.A.s or Production Assistants, they have become an important part of production.
Craft Service Etiquette
On set, meal break and eating order is scheduled and precise.  When, where, what and how long you get to eat will be announced by the AD (Assistant Director) or the AD's proxy (depending on your position on set, a subordinate or a PA may be in charge of "breaking" you for your meals).  The Craft Service table is less formal and strict about on-set hierarchy, especially if there is only one servicing the entire production.  The Director or principal performers may wait to let a PA grab something first if the PA has to get back right back to work.
Rather than worry about everyone's time or priorities, just keep these few basic rules in mind:
Snack courteously.  Unless you're the one with only 10 seconds before you're needed somewhere else, keep an eye out for others at the table and be willing to let others go ahead of you.  Don't hog all of one kind of snack—if it's your very favorite, other people probably like it, too.  And if you encounter Craft Service people, remember "please" and "thank you" are always appreciated.
Snack efficiently.  Don't hang out at the table or linger to pick and sample.  Get in, find what you need, and move out of the way.  You can go back for more if you have down-time, but you don't want to be a nuisance body-blocking other cast and crew.
Snack hygienically.  Don't make a mess, don't double-dip your chips, don't stack the creamer containers in futuristic, cylindrical cities only you understand.  If you do spill, spot a mess or can't find something that logically should be there (like the water, napkins, cups, etc.), politely inform Craft Services.
Snack proportionately.  This is not the last time you'll eat.  Craft Service is not a meal.
Snack.  Being part of a working production is a fantastic, fatiguing experience.  Be sure to keep your energy—and your attitude—up by hydrating and eating responsibly on set.


Related posts: