Professional Models are Prepared: The Model's Tote Bag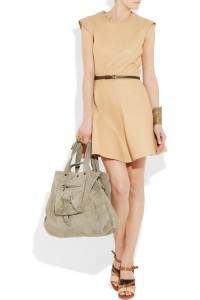 Having a well put together model's tote bag with you at all times will not only help you succeed on the runway or at a shoot, but you will be prepared for anything and everything.  Your model's bag will have everything you could need for modeling—from back up make-up to a variation of accessories.
You should have your model's tote bag with you at all times when you are working. The bag should be large enough to hold the items listed below and should have a shoulder strap for easy carrying. Check your bag every evening to be sure that you will be ready to go the next morning.
The Importance of The Model's Tote Bag
When I was modeling high fashion designer clothes such as CHANEL, ANN KLEIN & MAX MARA, I knew if it was for a department store informal fashion show they may NOT be providing a make-up artist, hair stylist, or accessories.  Many shows require professional models to arrive SHOW READY, and the items in your tote bag will save you from extra stress. So when the Fashion Coordinator says," I told you Red nail polish not Pink," you have got it covered!
Here are the items which to include in your Model's Tote Bag:
Your Portfolio book
Zed cards (the model's business card)
Vouchers
Cell phone with calendar
Pen and pencil
Make up (should have a variety of colors for lips, cheeks and eyes)

Concealer, base, powder, blush
Eye shadows, liners, mascara
Lip liners, lipsticks, and gloss
Red lipstick is a "must have"
Travel size containers of

Skin cleanser
Makeup remover
Moisturizer
Vaseline
Anti-perspirant
Tools

Makeup brushes
Q-Tips
Cotton balls
Small mirror
Tweezers
Razor
Hair

Brush
Comb
Bobby pins
Hair bands
Head bands
Ribbons and other hair accessories
Hair spray
Mousse
Gel
Nails

Clear polish
Pale polish
Red polish
Polish remover
Nail file
Undergarments

Body stocking – no lace, skin color, narrow shoulder straps
Two regular bras – seamless, one skin tone, one white. If bust size is less than 34B, then always have a padded bra or bust pads to slip into your body stocking. If your bust size is larger than 34B, always have a good support bra.
Strapless bra, skin-toned panties
Dress shields (especially important if you perspire heavily). Remember the clothes in most fashion shows are going BACK on the rack & will not sell if they smell like body odor or even perfume. This is why a model never applies a scent before a show. I have seen models not get asked back because the clothes they wore at the end of the show smelled.
Pantyhose: 2 pairs sheer-to waist natural color, 1 cream, 1 black. NO Suntan colors ever!
White or nude color half slip
Shoes (all shoes must be clean, well heeled and in good condition)

Basic black pump, neutral color pump, basic color flats
Evening sandal in black, gold bronze and/or silver
White tennis shoes
Accessories: various sizes, shapes, styles and colors (including gold and silver) of earrings belts, bracelets, and other accessories
Miscellaneous

Scarf to protect your hair or makeup hood (prevents makeup from getting on garment while changing)
Money (don't bring large amounts of cash or any other valuable items)
Tampons and panty liners (for bathing suit work)
Bathing suit or Danskin
Small snacks. You may not be able to take a break when you are hungry.
You may need to bring other items from your wardrobe—it will depend on the job. Check with your agent or with the coordinator (for a fashion show) if other items will be needed.
Not only as a model have I found the items in my tote bag useful, but also when I worked as an actress. I bring my tote bag to the set and inevitably, the makeup artist, hair stylist, and/or wardrobe person will find something in my bag they want to use. Most importantly, I know I have everything I need to look professional.
Good luck at your next modeling job! And don't forget to be prepared. You will stand out!

image credit:http://inofashion.com/luxurious-soft-suede-tote-bag-by-jerome-dreyfuss/
Related posts: