Runway Modeling: How to Prepare for a Fitting
Fitting and Fashion Show Etiquette
(Even though this post is directed to models, actors should abide by these rules too!)
Congratulations! You have gotten a job in a fashion show and are gaining experience in runway modeling. You've worked hard, done everything right and now is the moment you've been waiting for. Now there are certain things expected of you in your professional life; Your conduct at fittings illustrates how prepared you are for any situation and your behavior is noticed by your employer, the designer, the fashion coordinator etc. If you learn the proper procedures, you'll be ahead of the game. Clients will respect you, want to hire you, and recommend you for more modeling jobs.
Fitting Etiquette
1. A model always arrives 15 minutes early before their fitting time. Never more than this or you could be in the way: NEVER BE LATE.
2. A model arrives for the fitting freshly showered, wearing a light unscented deodorant, NEVER wear white heavy anti-perspirant it will get on the garments. If you perspire heavy you need to bring dress shields.
3. A model always shows up wearing light makeup and has perfectly groomed hair.
4. A model checks in with the fashion coordinator immediately.
5. If you are over 18 you always go to the fitting alone. NEVER bring your family or friends. Under 18 bring only ONE PARENT.
7. A model always wears clean lingerie.
8. A model never chews gum , smokes or drinks-EVER!
9. A model is happy and enthusiastic with each garment given to them to try on. Let the fashion coordinator decide what you can and cannot wear. DON'T express your opinion unless it's asked.
10. A model always hangs up the garments, NEVER throws them on the floor!  Be good to the clothes, they are not yours and most are going back on the rack.
11. A model never steps into a skirt or dress, ALWAYS over the head so as not to tear a hem etc.
12. A model uses a scarf or makeup/hair hood. The clothing must be protected from stains.
13. A model NEVER sits in the merchandise.
14.  A model always checks with the coordinator to see what accessories, shoes etc. she should include in her tote bag.
15. A model always thanks the coordinator for the time spent with her.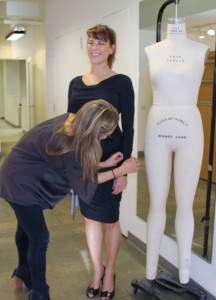 I have had the pleasure of producing many fashion shows. When hiring models, I would observe first if they had a great attitude and second if they handled and treated the clothes with extreme care. Those models who did not show up well groomed who stepped into skirts, who didn't wear a makeup hood to protect the clothes from stains, did not get hired for my next show.
Remember these rules and you will be a hit on the runway!  The same rules apply for fit models, who are hired my clothing manufacturer's so they can test the sizing of the garments they are creating.
Have fun modeling!

Image 1 Credit: The Image Gate/Getty Images Europe
Related posts: