Keep Your Acting Resume Up to Date! (And Format it Properly)
Your acting resume is an extremely important tool that will help you or your child get acting jobs. Keeping it up to date is essential because it keeps you competitive. Having your most current projects on your resume is a must.
Here are some tips to help you format you or your child actor's resume: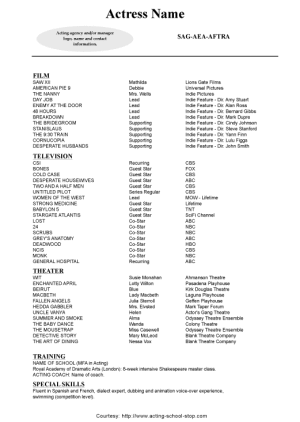 Make sure your name stands out at the top of your resume.
Under your name should be your union affliation (either SAG-AFTRA, non-union or SAG-AFTRA elligble)
Add your agency's icon and contact information, or, if you don't have any talent representation, you should include the phone number and email that is best to reach you at.
Divide your credits according to Film, Television, Commercials and Theatre under each category write the title of each production you were a part of.  You always want to have your credits in chronological order from the most recent starting at the top.  Some projects take months to release, but you can add your credit immediately after your day(s) on set.
Next to the name of each production, but in a seperate column, write how you were credited.  To know the difference in television and film credits, click here.  For theatre, you may list the name of the character.
The third column (after the Title and Credit), should name the production company or director.
Under these three columns, you may list your Training in a separate section.
Under Training, add a Special Skills section and list your special skills (i.e. dancing, pro-bowler, skiing, etc.)Review– make sure your acting resume has clean lines and doesn't look too busy.
Keep all of your resumes up to date. This includes hard copies and digital copies. Be sure that your extra copies in your car are always up to date. When you update your hard copy, check it against your resume on acting submission websites as well as your personal acting site.  Always print your resume on a separate paper, because your resume or your child actor's resume will change week-to-week or even day-to-day, you want to be able to update it constantly. If you print your resume to the back of your headshots, you won't be able to update it. After you print it on a separate piece of paper attach it to your headshot with staples–don't glue! You can either staple all four corners or one staple in the center of the top and bottom of the resume.  Avoid paperclips as they can fall off or snag on other resumes and papers. If you get a job before you use the 4-5 resumes that you printed, you can easily pull them off if they're stapled. Then you can staple the updated resume copy to the headshot. This way you won't waste any expensive prints!
In my showcase class, I teach all of my students or their parents how to make an acting resume. Then I proof their resume or their child actor's resume and answer any of their questions. Because it is such an essential tool for the actor, I focus my attention on each student individually.

Related posts: