What is a Regional Commercial? (SAG-AFTRA)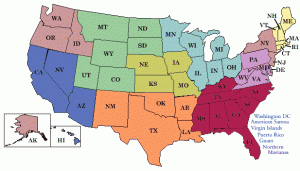 A regional commercial airs within a town, county, or a couple counties.  For example, just in the Southwest, or in 15 states.  Regional TV Commercials advertise local businesses such as restaurants, car dealerships, hospitals, insurance companies, or phone companies that are based in a specific region of the United States. The compensation for these type of commercials varies widely.You can see how the payment is calculated in this PDF on the SAG site. As of 2012, the starting union day rate is $592.20. While actors are not paid as much as a national commercial, regional commercials are great work!
Some examples:
1. I booked a commercial for Bob Evans Restaurants, which is located in the Midwest.  The commercial aired in eight states that have Bob Evans Restaurants.  I earned about $15,000 for this commercial just by having the pleasure of dining with other women and raving about Bob Evans' famous biscuits.
2. One of my students from 3-2-1 Acting School in Los Angeles, Sophia Kazorian, starred in two regional commercials, Gold N' Grill and The Pasadena Language Center.  In the Golf N' Grill spot, Sophia got to play golf at their miniature golf course and eat their grill!  The production company loved her.  Because of her training at 3-2-1 Acting School, she knew exactly what to do and how to behave on set.
3. Another student, Kayla Hyland, starred in a SAG regional commercial for CenturyLink, where she sits on the steps with her "father" and jokingly teases him. She learned in my Commercial Class for Kids and Teens not only how to be comfortable in front of the camera and let her quick wits shine, but also how to land the job and be professional on set.  The directors loved Kayla and said they would hire her again. Her career just keeps moving forward! Watch her regional spot below:


Related posts: