Meeting an Agent? Start with confidence!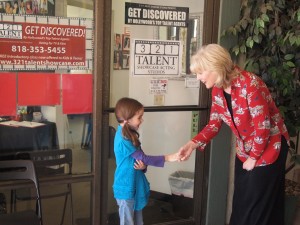 Is your child meeting an agent in Hollywood for the first time ? Maybe they have interest from multiple agencies! Congratulations!
When your child walks into an agent interview, their firm handshake will show confidence– not nerves– coming from a child.  Now, that's a gesture that will impress! When your child walks in to meet one-on-one with agents, directors, and producers, a proper handshake will give your child an instant confidence boost, especially because she is starting the
meeting with something she has practiced and knows how to do.  This confidence will carry on into the meeting, helping to settle some nerves and helping her to focus.
But not only that, an agent, director, or producer will get a really good first impression of your child. Offering a great handshake shows manners, class, and maturity. A professional will get the idea that your child knows what he is doing and has what it takes to succeed.  This is why we practice various confidence techniques at my acting school in Los Angeles for children, teens and young adults, 3-2-1 Talent Showcase Acting Studios. My students know how to be confident, which helps move their careers forward.

Related posts: